GEOG*2420
The Earth From Space
Flight Planning
John Lindsay
Fall 2015
Readings
Jensen Chapter 4, pg. 124-125
Image Acquistion
There exists an enormous archive of earth imagery both with respect to historical aerial photography and satellite imagery.
Usually held by federal/provincial/state repositories.
In Canada, the record extends 80 yrs back.
Hard-copy vs. scanned digital vs. digital
Varying cost of purchase.
SWOOP Images
Southwestern Ontario Orthophotography Project (SWOOP) 2010
0.3 m pixel resolution orthophotos & 2-10 m DEM
Access through the Data Resource Centre
Free access for UofG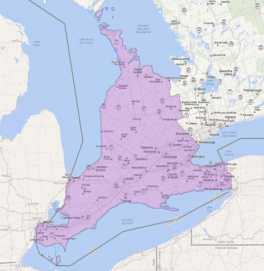 National Aerial Photo Library
Other Canadian AP's through the National Aerial Photo Library of Canada, Ottawa
http://airphotos.nrcan.gc.ca/prod_e.php
About $15 for a contact print and $30 for a pan scanned digital image (600 dpi)
A typical project area could be 30 photos in size = $900.
When is archive data unsuitable?
If existing data is out of date
Wrong season
The wrong scale for use
Poor quality

Might be due to degradation of film, poor weather/atmospheric conditions, unsuitable film type/spectral bands, etc.
When is archive data unsuitable?
In these situations, you must contract the acquisition of new imagery


This is always more expensive than purchasing archived data
New image acquisition—things to remember
Timing—usually a very small window
Scale (flying height and focal length)
Required percent overlap between photos
Flightline (number, orientation)
Film type
Camera type and characteristics
Aircraft capabilities
Time of Day Considerations
When the sun angle is less than 30° long shadows can obscure valuable information.


Can be very useful for interpreting terrain though.


When the sun angle is quite high hot spots can be present...
Hot Spots
Unusually bright spot on photo.
Pronounced over water and forest.
Occurs when sun angle is greater than about 52°.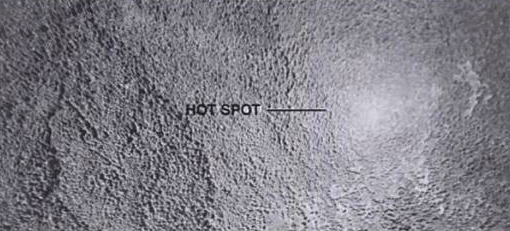 (source: Paine and Kiser, 2001)
Weather Considerations
Excessive humidity can cause image degradation due to scattering.
Cloud cover also degrades images.
Best to acquire after a front goes through.
Rain washes the particulates out of the atmosphere
Strong winds cause problems too...
Drift and Crab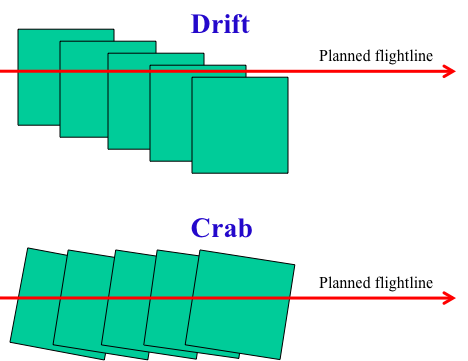 Flightlines over a project area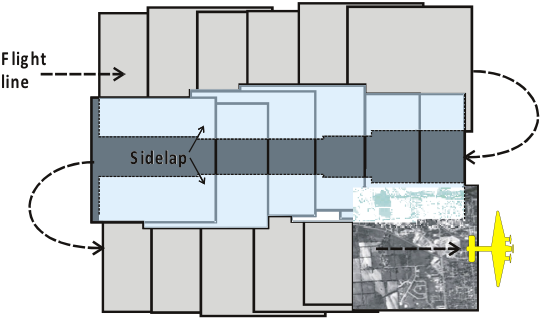 (source: Jan Mersey)
Flightlines over a project area
Must start by determining the mission constraints:

Photo scale
Camera focal length
Film format (e.g. Large format)
Image overlap
Photo Mosaic
Multiple overlapping air photos are 'stitched' together
Traditionally done by hand now usually done using software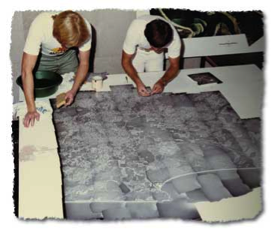 (source: http://www.nrw.qld.gov.au/museum/articles_complete/mapping/aerial.html)
Photo Mosaic
Notice that the are radiometric differences between the images apparent as unmatched tonal variation among photos

(source: unknown)
Types of Mosaics
Index mosaics

Usually prepared for the purpose of providing an index to individual photos in a series

Uncontrolled mosaics

Uses best fit but because of tilt of aircraft between exposures and topographic displacement, these mosaics are not reliable

Controlled mosaics

Use ground control points and rectified imagery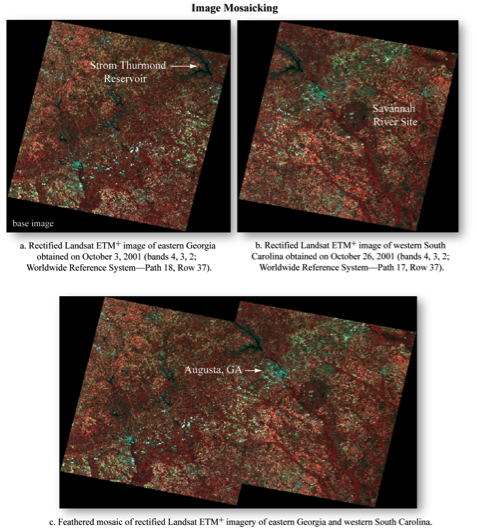 (source: Jensen 2007)