GEOG*3480
GIS and Spatial Analysis
Basic Raster and Vector
Data Analysis Part 3
John Lindsay
Fall 2015
In the georelational data model used for vectors, each feature is assigned a unique key or identifer.
With raster data, points, lines, and polygons are stored as one or more pixels but there is nothing that explicitly identifies a cell as belonging to a certain feature
What can you do when you need to perform operations on features?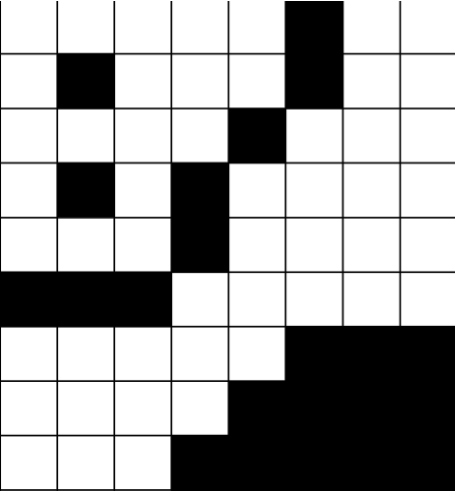 Clumping (Grouping)
Each contiguous group of cells with the same value in the input image will be assigned the same unique identifier in the output image


Called Region Group in ArcGIS, r.clump in GRASS, Group in Idrisi, and Clump (Group) in Whitebox GAT.


Only performed on Boolean or categorical raster images

Why not on continuous data images?
Clumping (Grouping)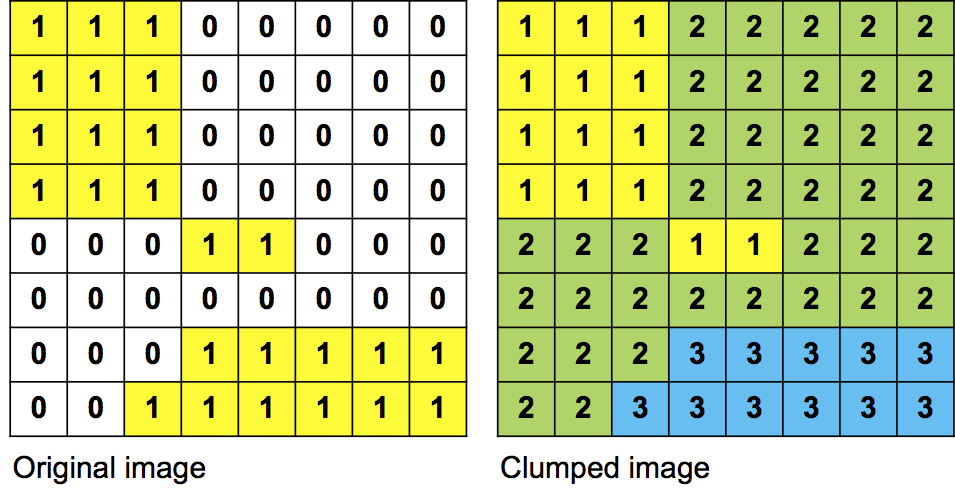 Identifiers are usually assigned in the order they are encountered during the scan from the upper left-hand corner
Always display clumped images using a random (qualitative) palette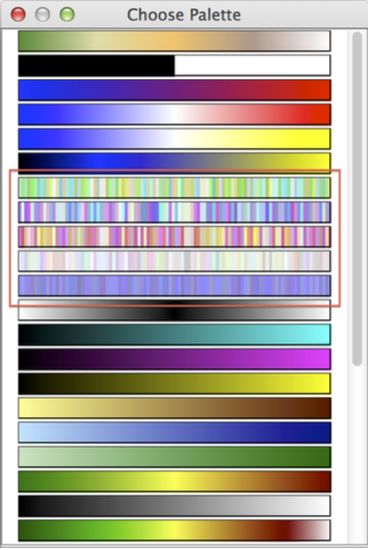 Clumping as a means of noise removal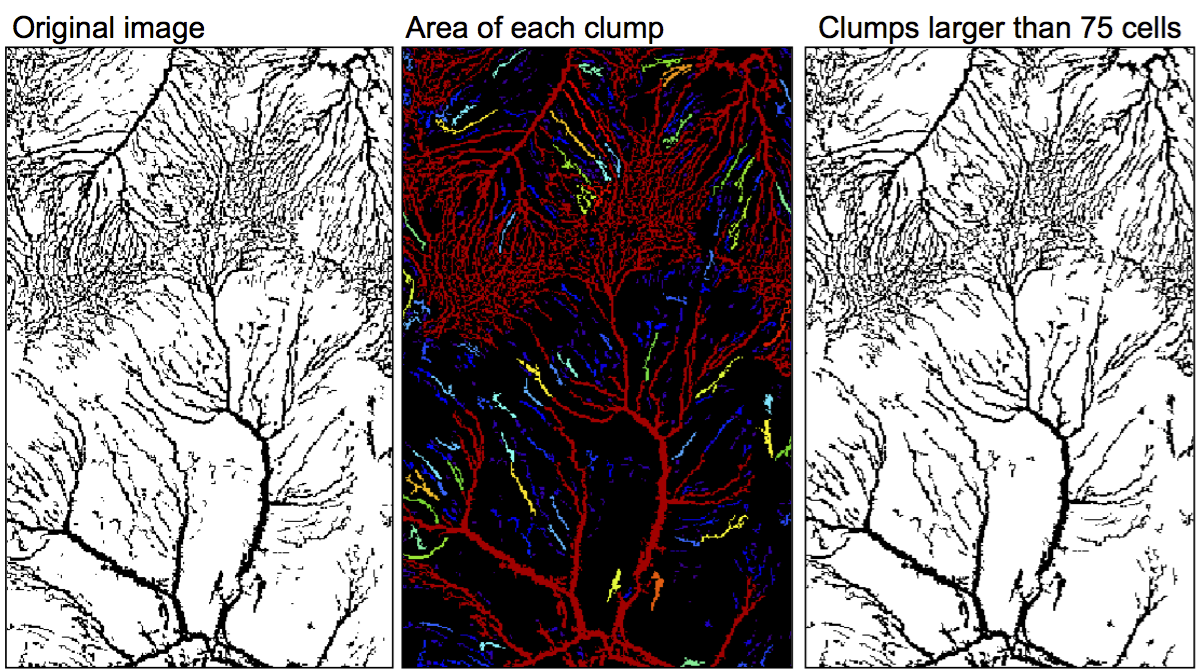 Removing background features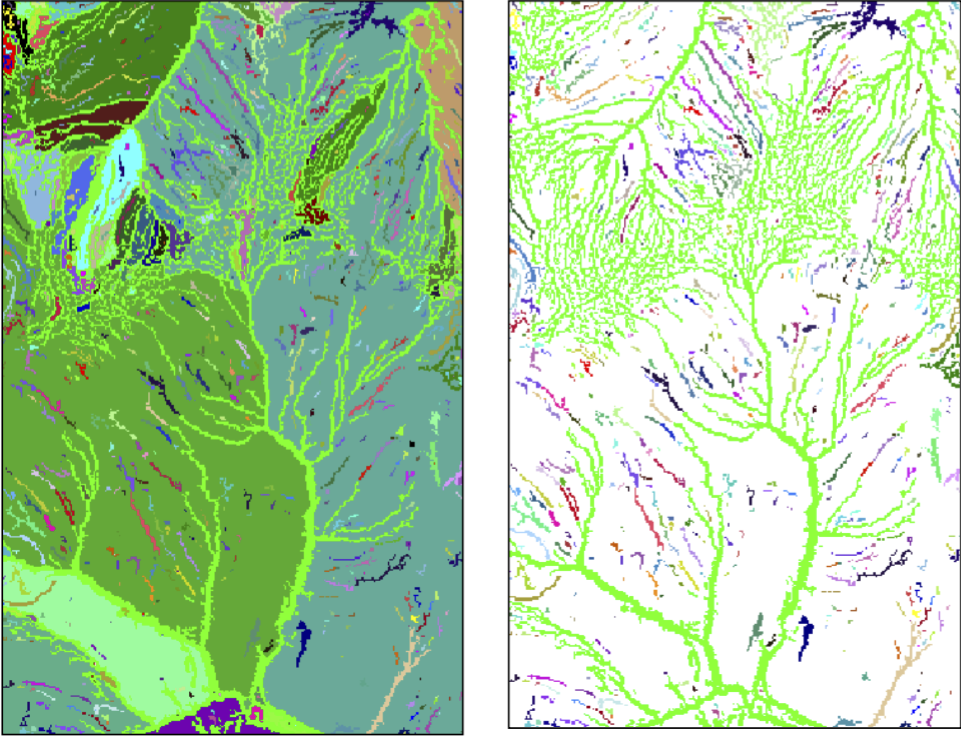 Including/excluding diagonal connectivity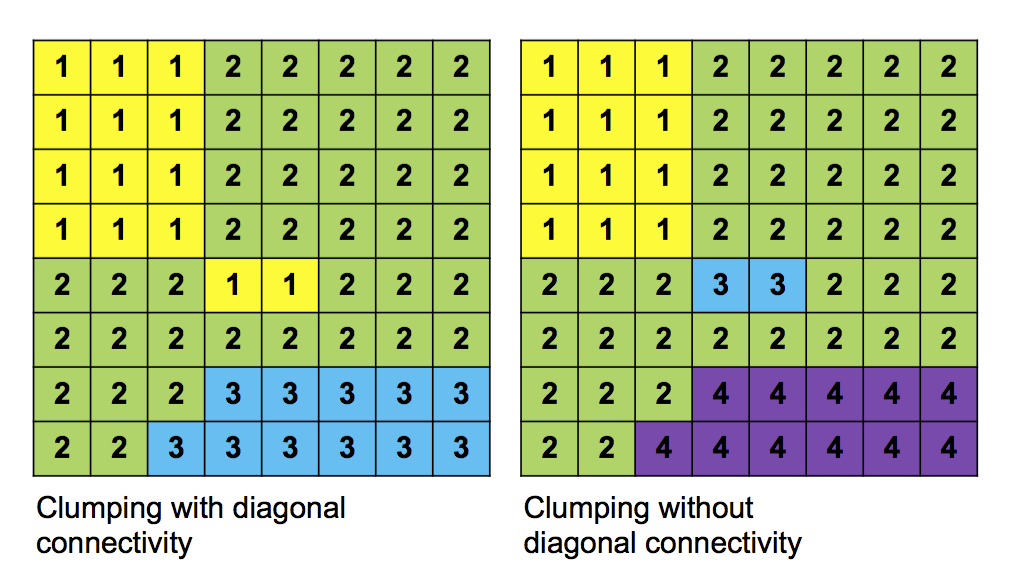 Including/excluding diagonal connectivity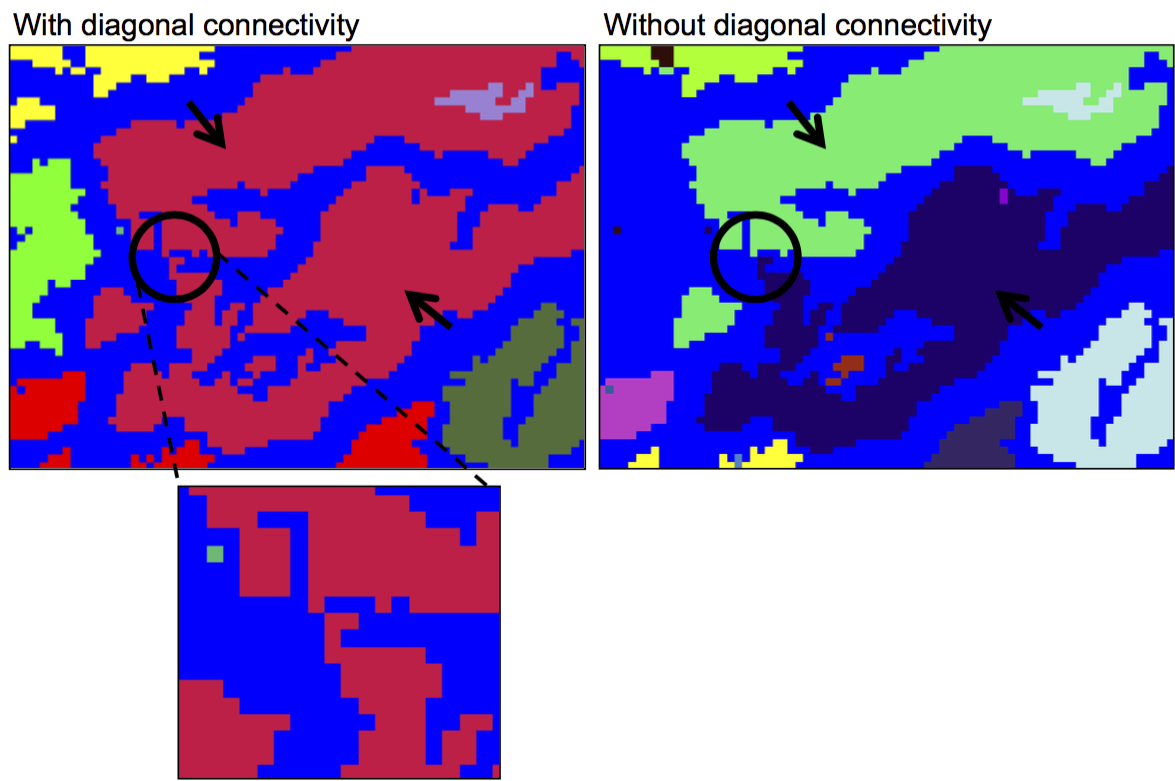 Spatial Filtering
A very widely used analysis technique in raster geospatial analysis; perhaps the most common raster neighbourhood operation
Based on convolution techniques of image processing
Involves visiting each grid cell in an image and examining the neighbouring cells within a kernel, also called a window or filter
Works on Boolean, categorical, and continuous images
Spatial Filtering
Filters are used for all kinds of applications


Some filters are used to smooth surfaces


Some are used to emphasize the high-frequency noise


Others are used to find edges in an image
Varrying kernel size

Varrying kernel size
The most common kernel size is 3 cell × 3 cell


Any other kernel size is possible, though it should be an odd number so that there is a centre cell to the kernel


The number of calculations that are needed to perform a filter increase exponentially with increased kernel size


Repeating a filter several times is equivalent to using a larger filter window
Varrying kernel shapes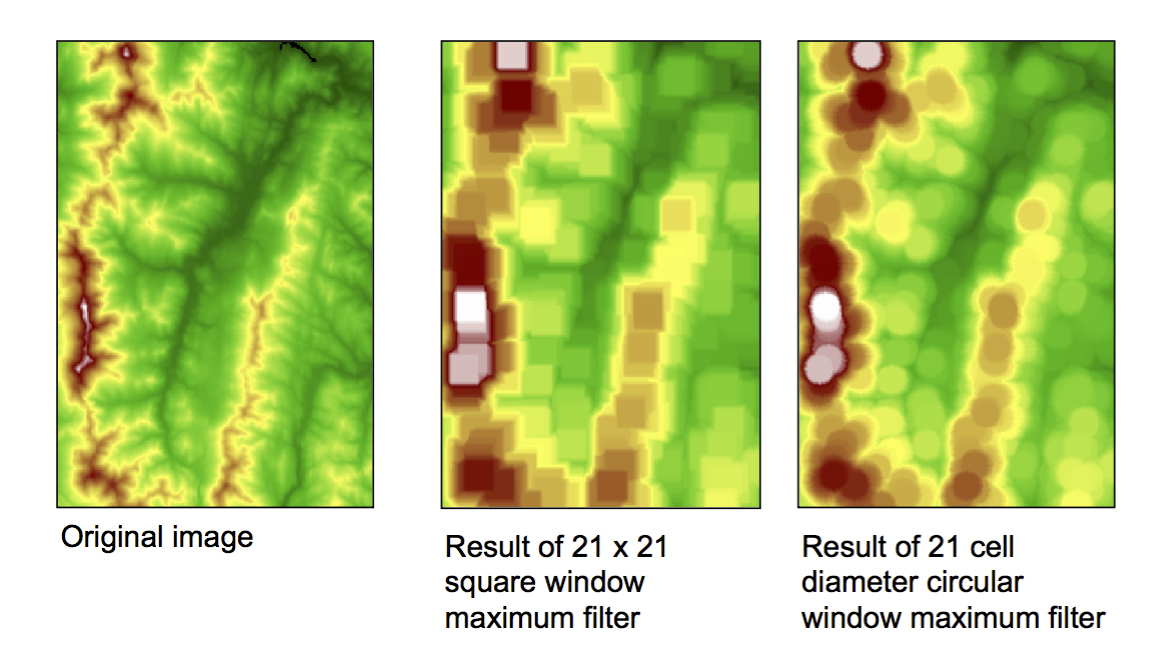 Varrying kernel shapes
Other kernel shapes are possible

e.g. rectangles, ovals, etc.
The shape must be approximated by a grid



These are usually used to give a directional preference to the filter known as anisotropy


Isotropy = homogeneity in all directions


Anisotropy is the opposite, i.e. pronounced directionality
Minimum and maximum filters on Boolean images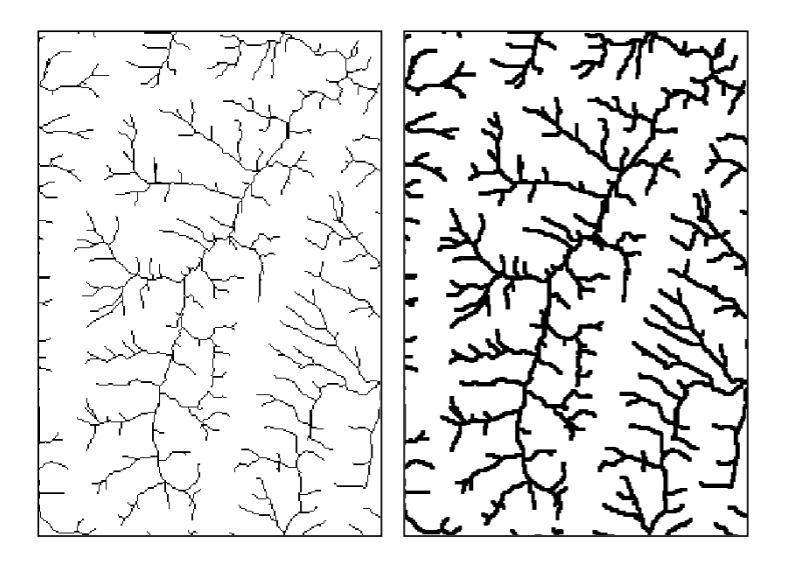 Maximum filter on a Boolean is referred to as Dilation
Minimum and maximum filters on Boolean images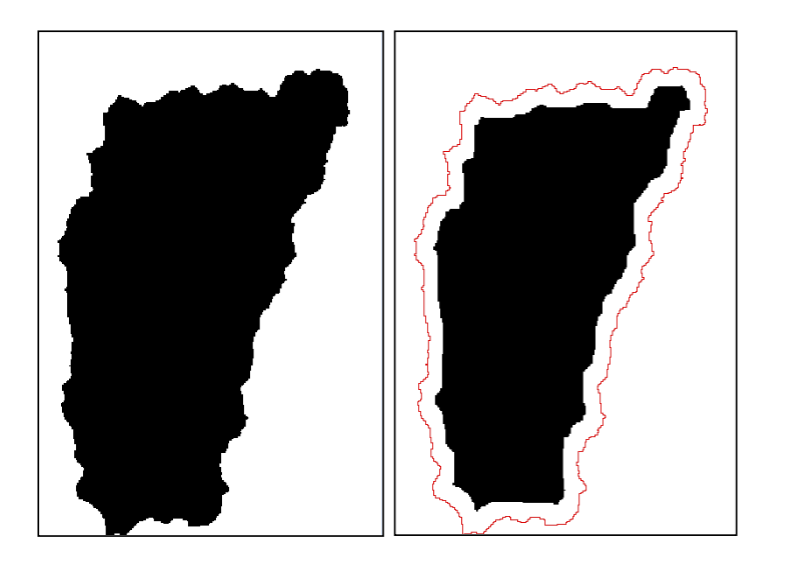 Minimum filter on a Boolean is referred to as Erosion
Spatial filtering in ArcGIS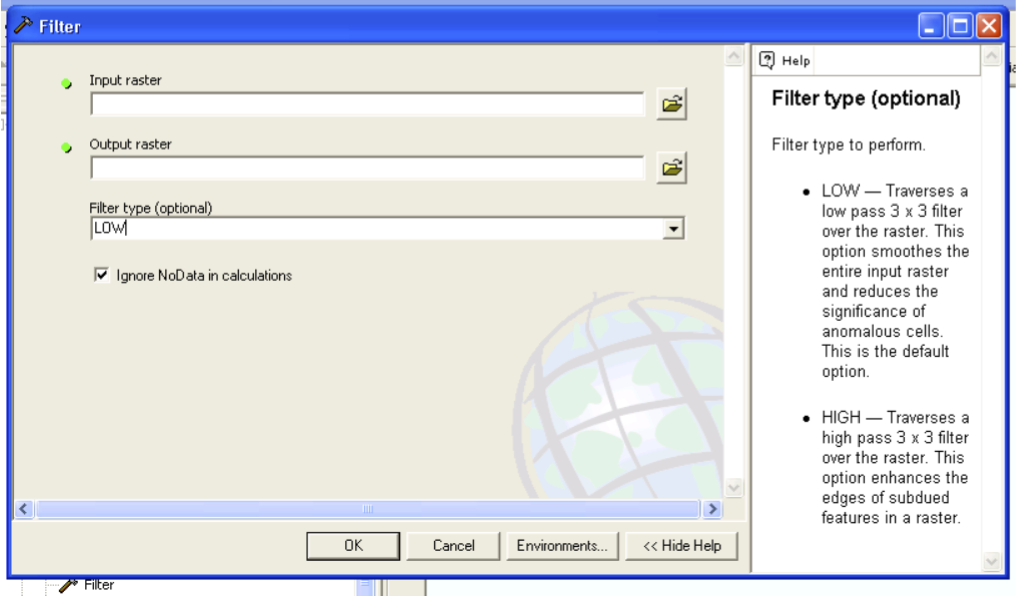 Spatial filtering in Whitebox GAT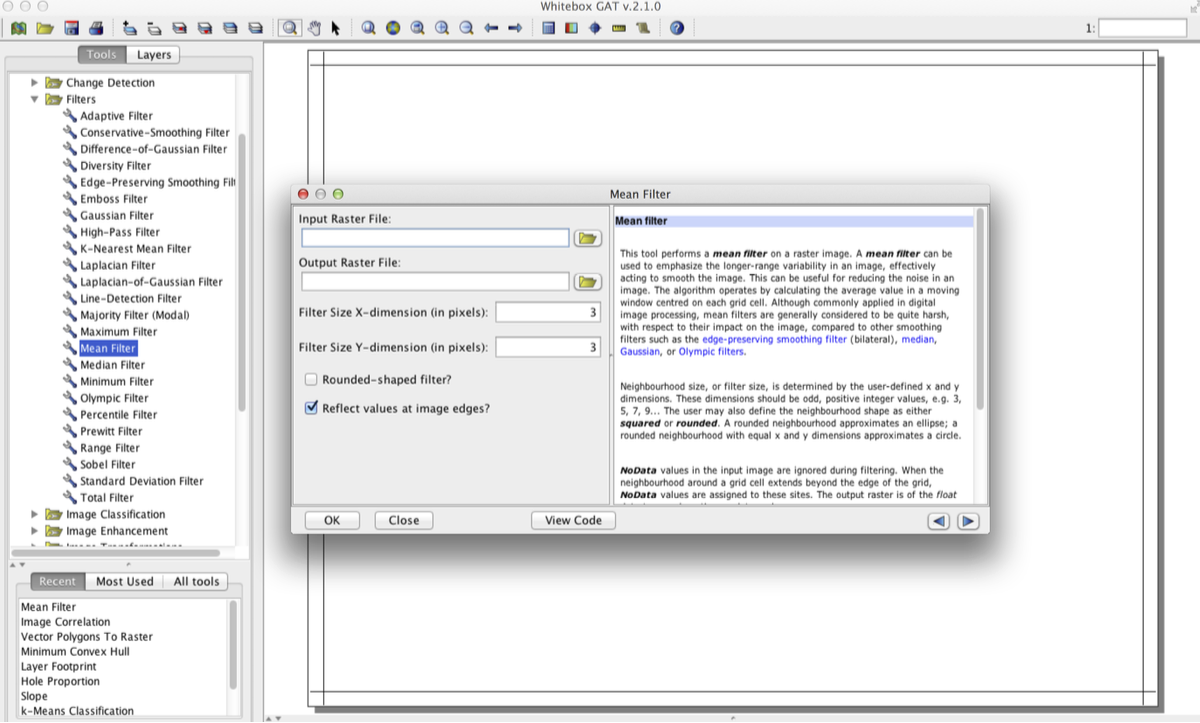 Spatial filtering in IDRISI